Welcome!
About
Welcome to the Nabari no Ou Wiki!
Nabari No Ou (or literally "King of the Hidden World") lives here! Join our comprehensive database dedicated to the manga and anime by Yuhki Kamatani! We could really use every help we can get, or if you like, leave a blog about your thoughts on Nabari and share your experience!
Please read our guidelines before making any changes to the Wiki.
Please be aware that a number of links may not be functional and pages may be relatively empty as the Wiki is currently undergoing heavy maintenance and updates in an effort to update multiple aspects of the Wiki. Don't see a page you're looking for? Consider making it! Is information you know missing? Anyone can edit! Have ideas on how you'd like to see this Wiki improve? We have a forum for that!
Warning: As the manga and anime ended around a decade ago, this Wiki contains unmarked spoilers for all versions of the series. Browse at your own discretion.
Main Characters
Latest Blog Posts
Hey guys!

Notable updates:

Brand new look for the nno wiki, article management templates, and infoboxes!
New article management templates (incomplete , expand , cleanup)
Gallery pages now active

Things are really starting to get reorganized and freshened…

Read more >

New guideline pages are up and running!

Manual of Style
Media Guidelines

Please give these pages a read-over before making any changes/edits to the wiki.

Read more >
Affiliates
The Series
Nabari no Ou (隠の王Nabari no Ō, lit. Ruler of Nabari) is a Japanese manga series written and illustrated by Yuhki Kamatani . The series premiered in Japan in Monthly GFantasy in 2004 and the final chapter was released on August 18, 2010. The series is collected within fourteen volumes in total. Nabari no Ou was licensed for an English language release in North America by Yen Press. The first volume was released in May 2009..... Read more

Featured Character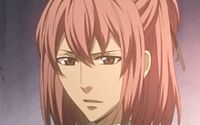 Raikou is a 20-year-old samurai from the Shimizu Clan, working for the
Grey Wolves
. Alongside his partner
Gau Meguro
, as a member of the Wakachi he is tasked with the identification, tracking, and elimination of shinobi who abuse their powers...
News
February 22, 2018
The first volume of Shimanami Tasogare, renamed Éclat(s) d'âme, has been officially published in French by Éditions Akata.
February 9, 2018
December 11, 2017
The first volume of Shimanami Tasogare, renamed Sombras sobre Shimanami, has been officially published in Spanish by Ediciones Tomodoro.
Poll
What's your favourite forbidden art?