Welcome to the World of Nabari!
Nabari No Ou (or literally "King of the Hidden World") lives here! Join our comprehensive database dedicated to the manga and anime by Yuhki Kamatani! We could really use every help we can get, or if you like, leave a blog about your thoughts of Nabari and share your experience!
Don't know anything about how to edit? Here are some guides that can be helpful for you:
Main Characters
About
Nabari no Ou (隠の王Nabari no Ō, lit. Ruler of Nabari) is a Japanese manga series written and illustrated by Yuhki Kamatani . The series premiered in Japan in Monthly GFantasy in 2004 and the final chapter was released on August 18, 2010. Square Enix is also publishing the individual chapters in collected volumes with eleven volumes released as of June 2009. The series has been licensed for an English language release in North America by Yen Press. The first volume was released in May 2009..... Read more

Featured Ninja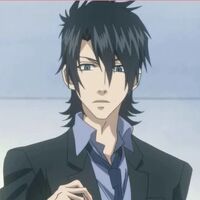 Miharu's and Kouichi's 25-year-old English teacher in the "front world". Born in Ireland on March 17, Kumohira is actually a ninja of the Banten village in the world of Nabari. He is entirely devoted to protecting Miharu, and wants him to become the ruler of Nabari, without resorting to the Shinra Banshou. He has an intense hatred of transport, such as trains and buses, and would not get on one until Miharu manages to "persuade" him.... Read more

Poll
Which group do you belong?
Badges to Earn!
Don't forget to share your knowledge here in Nabari, and earn cool badges along the way! Even the littlest things counts to the betterment of the Nabari World.
Edit
Pictures
Category
Blog
Wiki Love
Special Achievements

Secret Achievements

Making a Difference

Snapshot

Making a Connection




Something to Say

Key of Nabari

Welcome to Nabari!

Not Giving Up

Just the Beginning

Paparazzi

Trail Blazer




Opinionator

Samurai's Oath

Introduction

Angel's Wish

Making Your Mark

Illustrator

Explorer

Ninja Speaker

Brother's Promise




Stopping By to Say Hi!

Friends of Nabari

Scroll Collector

Ninja Tour Guide

Deep Bond

Ninja Collaborator

Icing on Top

Friendship Navigator

My Only Salvation

Wiki Samurai

Samurai Designer

Sensei's Way

No Pain No Gain

Wiki Angel

Sweets Artist

Organized Agenda

King of Nabari

Wiki King

Eternal Beauty
Ad blocker interference detected!
Wikia is a free-to-use site that makes money from advertising. We have a modified experience for viewers using ad blockers

Wikia is not accessible if you've made further modifications. Remove the custom ad blocker rule(s) and the page will load as expected.